Once your list and forms are set, you are ready to go for creating an email campaign. You can run email campaigns to send your marketing messages to the subscribers opted for your marketing messages. In FluentCRM, an email campaign is a bulk email marketing campaign that sent to many contacts at once instantly or in a scheduled time defined by you. This is as easy as add a template, add the content, design the template, select your audience group, and then send it off to your subscribers.
Things to do before you start an email campaign with FluentCRM
Go to Email Campaigns tab, click on the Create New Campaign button.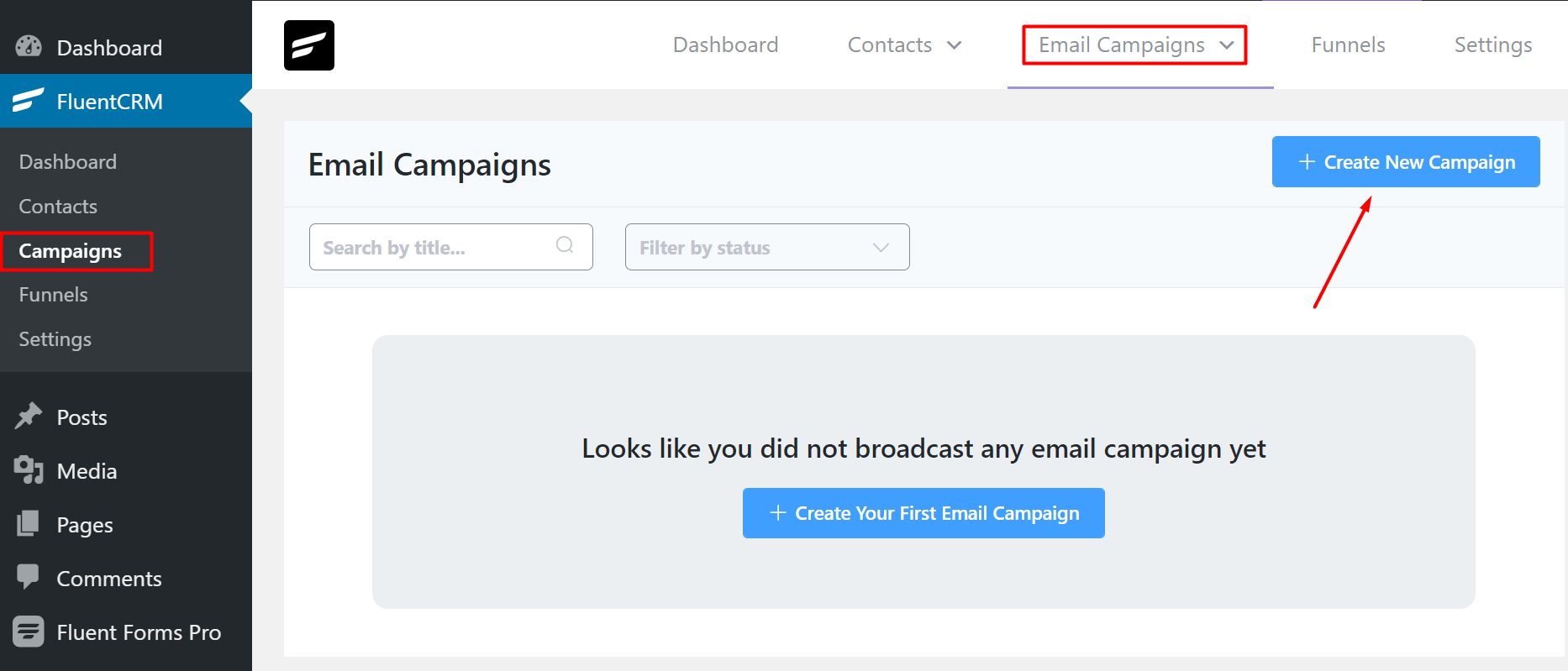 Now give a Title and click Continue.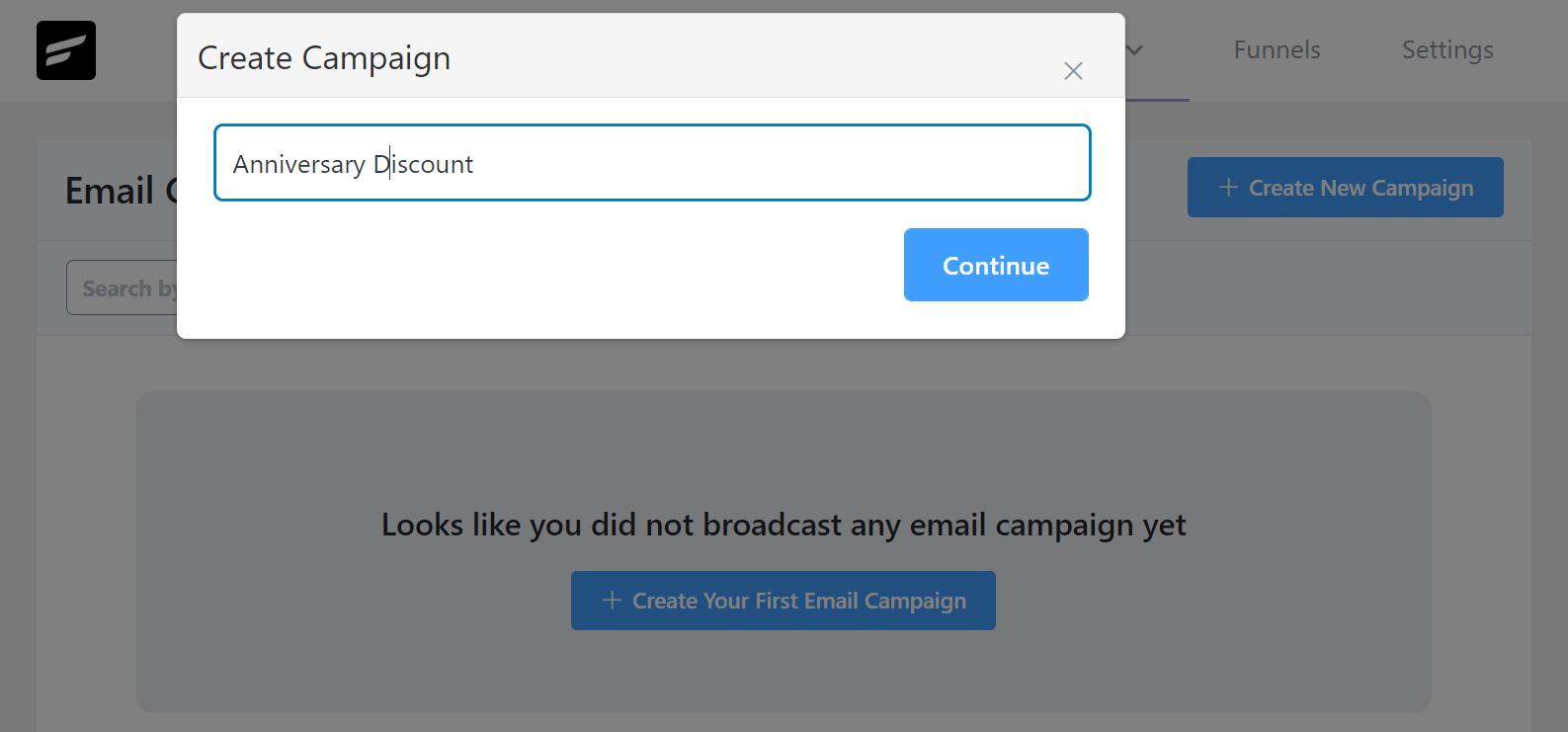 Email Body
Basic Email Styling
After giving the name, choose the content for your email body. At first, you will need to provide some basic Email Styling Settings for the email content. Click on the little setting icon and a popup will appear with the default settings. You can customize the styles to fit your need.
After selecting the basic styling, choose the template settings for the email. Three predesigned template options available (Simple Boxed, Plain Centered, and Classic) to choose from or you can raw code the HTML also. If you already created any predesigned template in the template library you can import the template by clicking on the "Import From Library"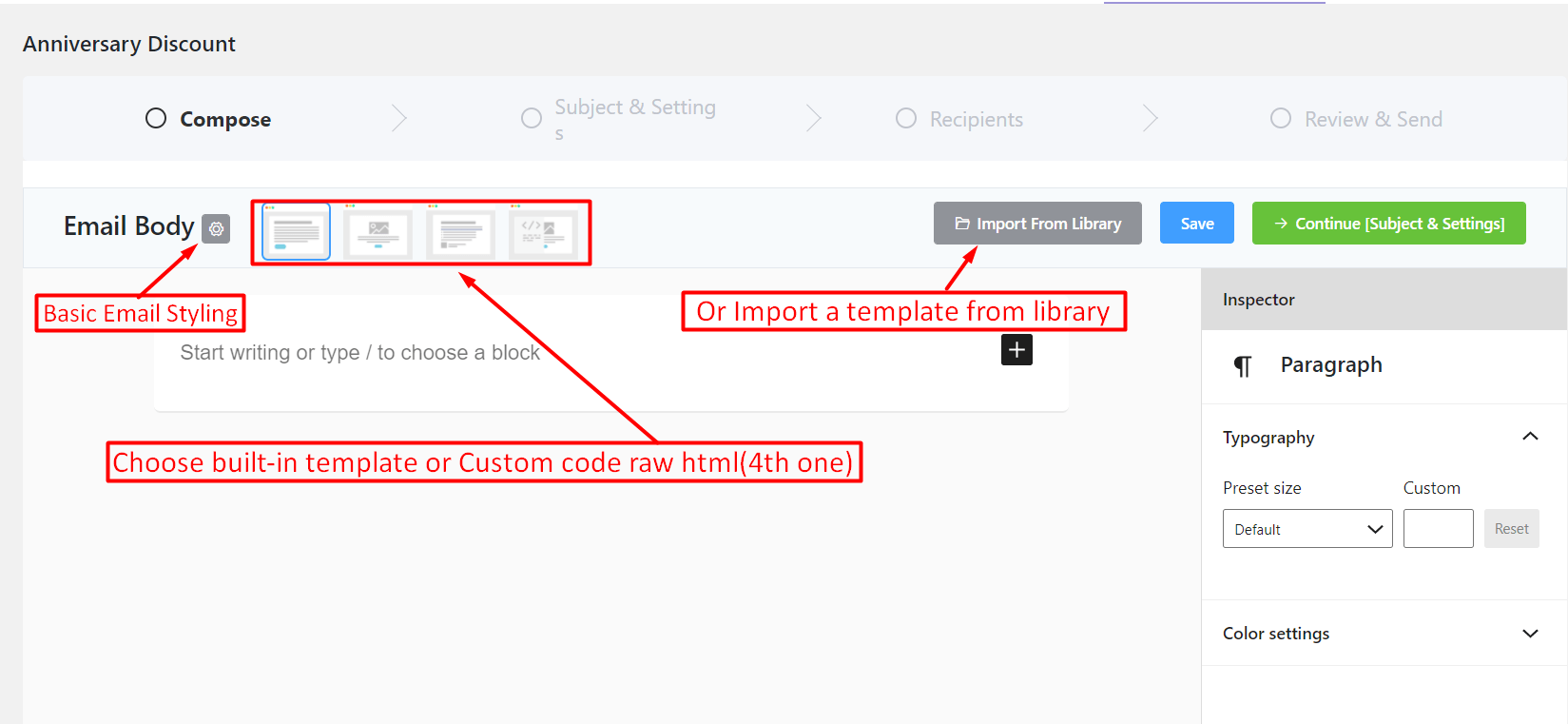 Body Content
Add your content in this section. This section is basically the block editor to add contents into your email body. Add texts, media, or other contents using the block style editor.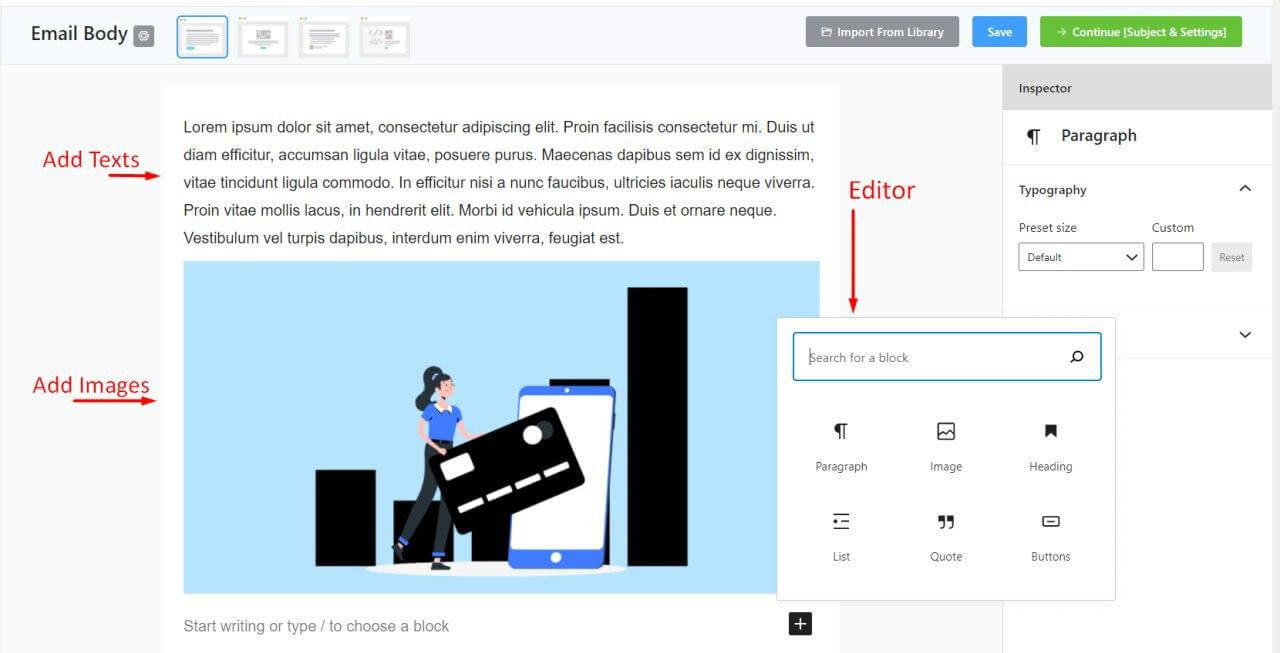 You can save the data by clicking on the "Save" button while editing the content. When you are done with the email body click on the "Continue" button which you lead you to the Email Subject & Settings Window.
Subject & Settings: In this section, you will work on the various components of your email.
Subject and Settings
In this section, you will work on the various components of your Email Subject & Other Settings.
Email Subject
In the Subject field, enter a subject line for your email. The subject plays a very important role in whether the email will be opened by a user or will just ignore the email.
A/B Testing of Email Subject
You can add multiple subjects for A/B testing. This will help you determine which subject is working best for your emails by checking the A/B test result.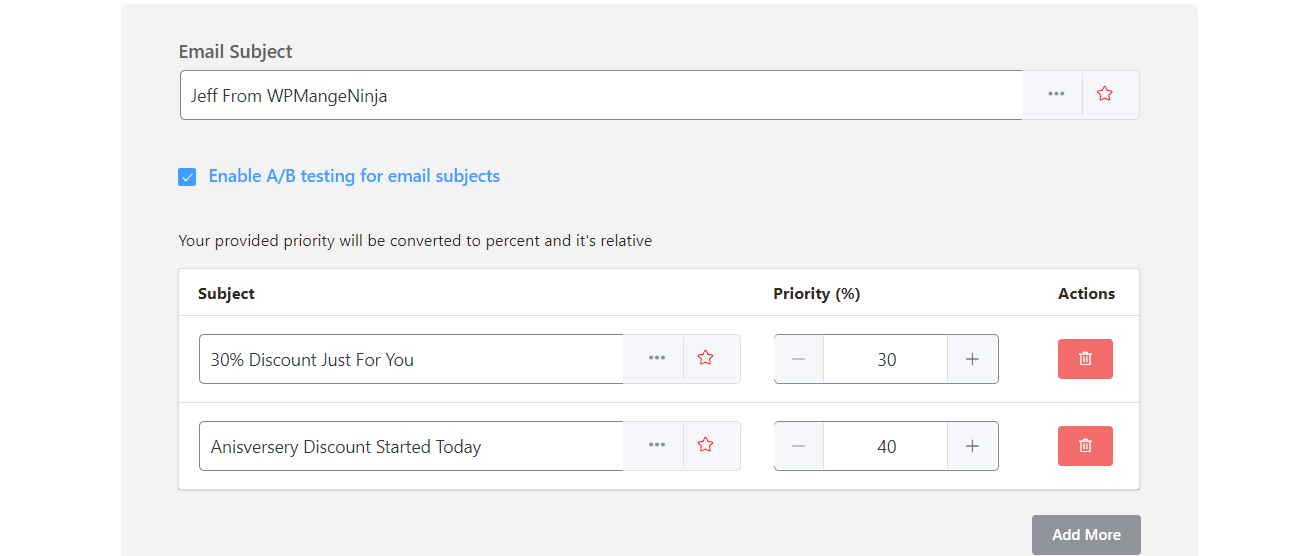 Email Pre-Header
This is the short summary text that follows the subject line when viewing an email from the inbox.

Set Custom From Name and Email
Click the checkbox to set the custom from the name and email. If you don't set it here then your global email setting will be used for sending the emails.

Add UTM Parameters For URLs
Click the checkbox to Add UTM Parameters For URLs: Campaign source, medium, and Campaign name required for the UTM parameter. You can also add Campaign Term and Content for the URL parameter.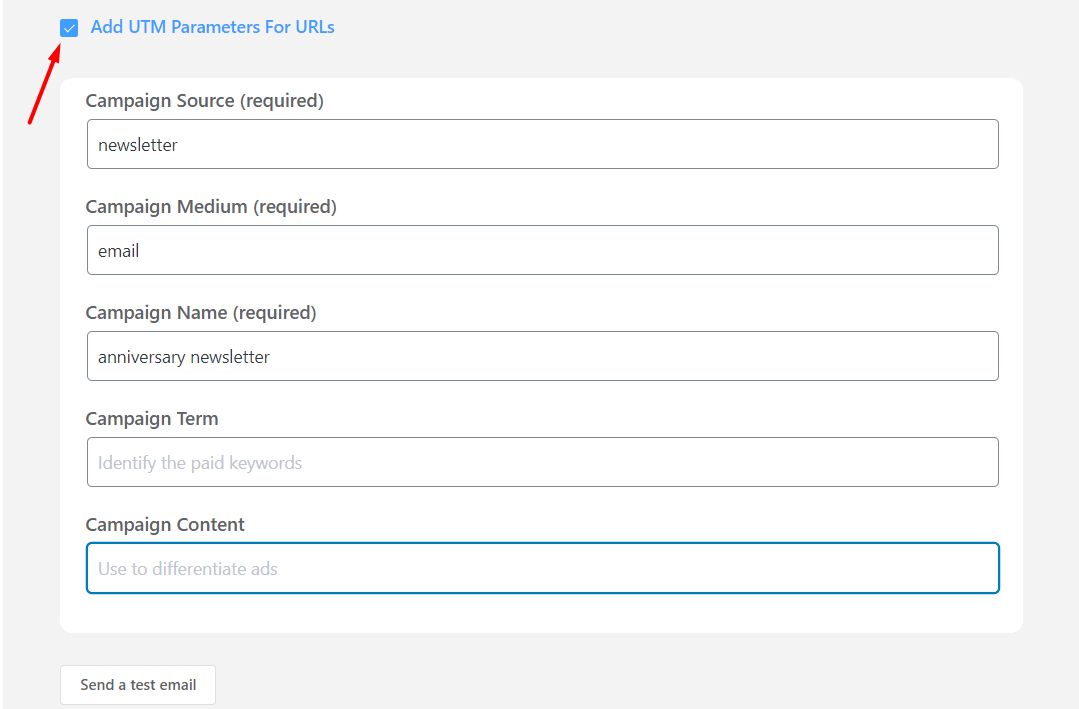 When you are done with all the fields of Subject & Settings, you can send a test email to your mailbox. Just click to the Send a test email and the email associated with your user account will receive a test email so you can check if everything is done right for your email campaign.
Click the Continue button and go to the next step to add the recipient to this email campaign.
Recipient
You can add recipients by List & Tag and also from Dynamic Segment for example, from WordPress users or Woocommerce Users or from other integrations available with FluentCRM.
Add recipient By List & Tag
Choose your List & Tag. You can select one list and one tag from the dropdown. You can also exclude contacts from the campaign based on a certain List and Tag.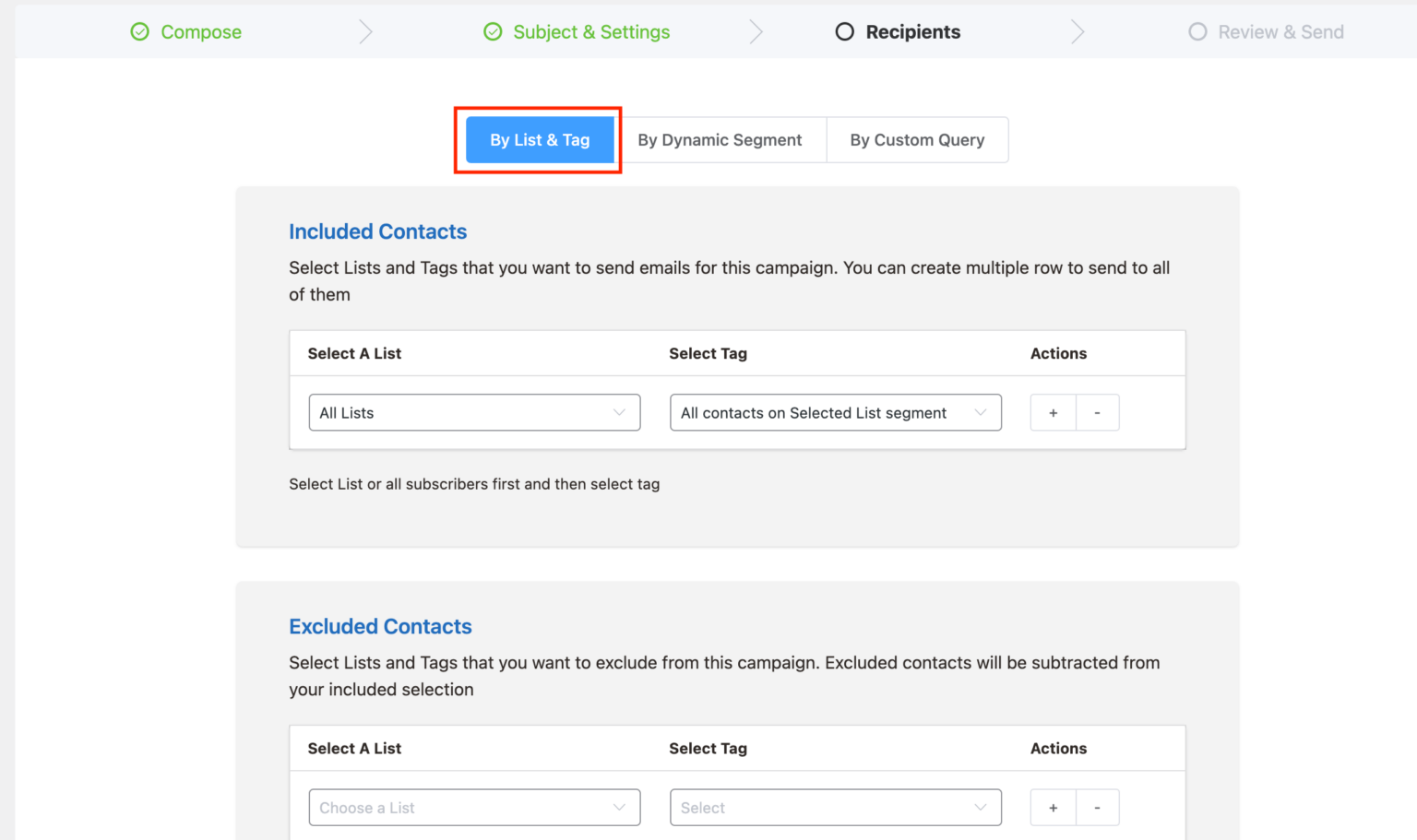 Add recipient By Dynamic Segment
You can also run the campaign by dynamic segments, for example, Woocomemrce Users or LearnDash or LifterLMS users, or to any other integration available with FluentCRM.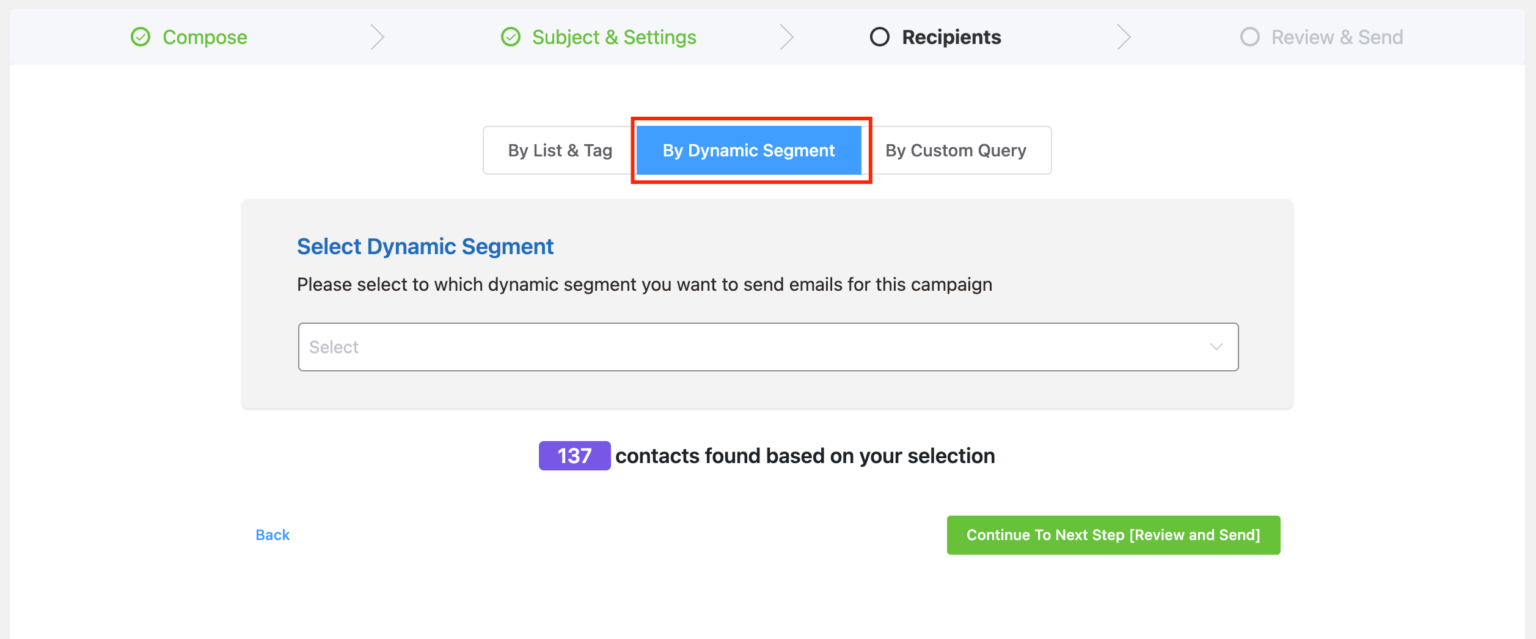 Add recipient By Custom Query
You can select custom contacts by using advanced filters and segment the contacts accordingly.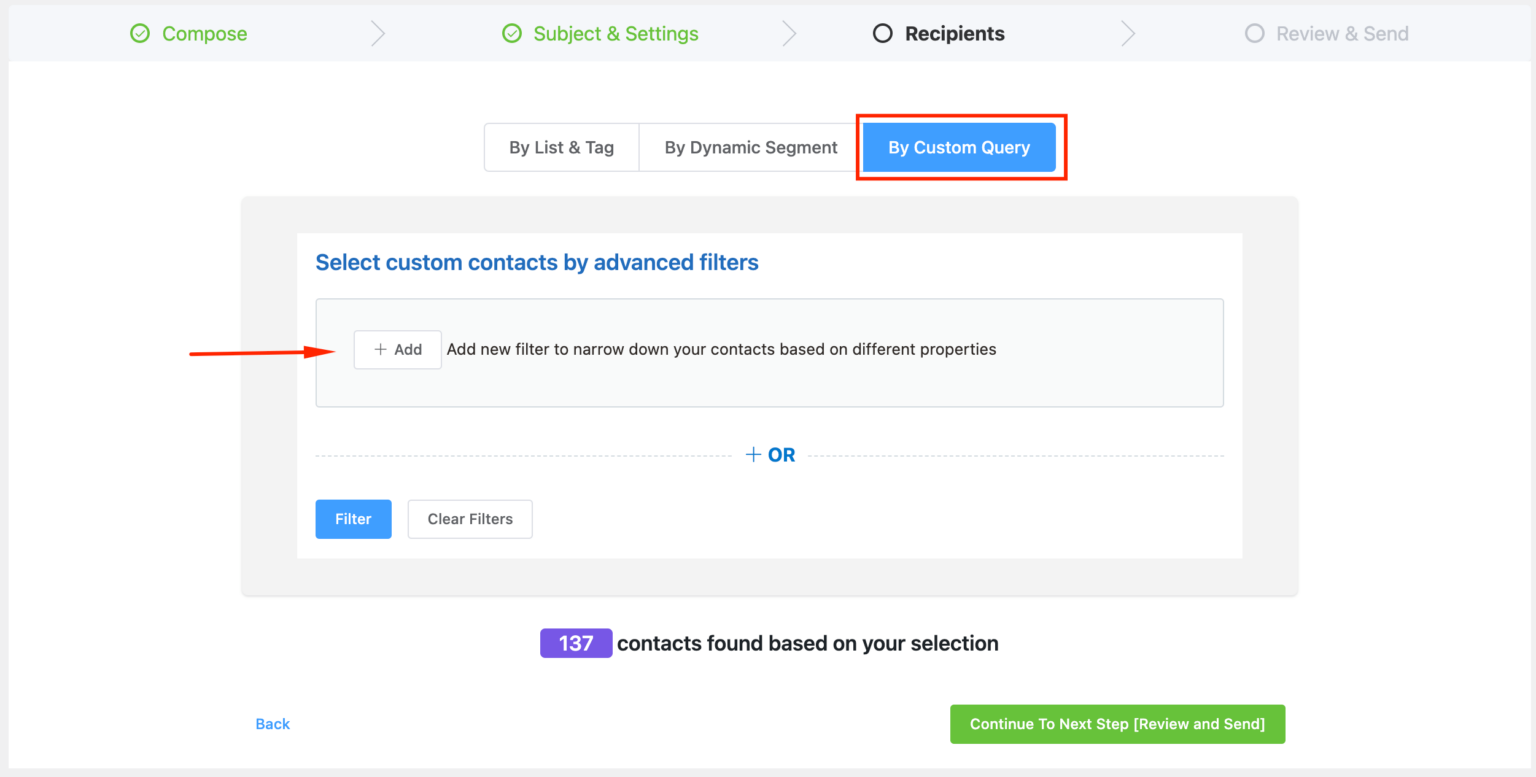 Once you are done choosing the Recipients, click continue to the Review & Send step.
Review & Send
The email campaign has successfully been set up. Now you can review all your settings in this step. If anything needs to change you can go back and edit. If everything has been set up correctly you can start the campaign right away or you can schedule the campaign also by selecting the date and time.
Edit Recipients
You can exclude any user manually from the Edit Recipients option. These users will not be deleted from your lists, They will be only excluded from this campaign.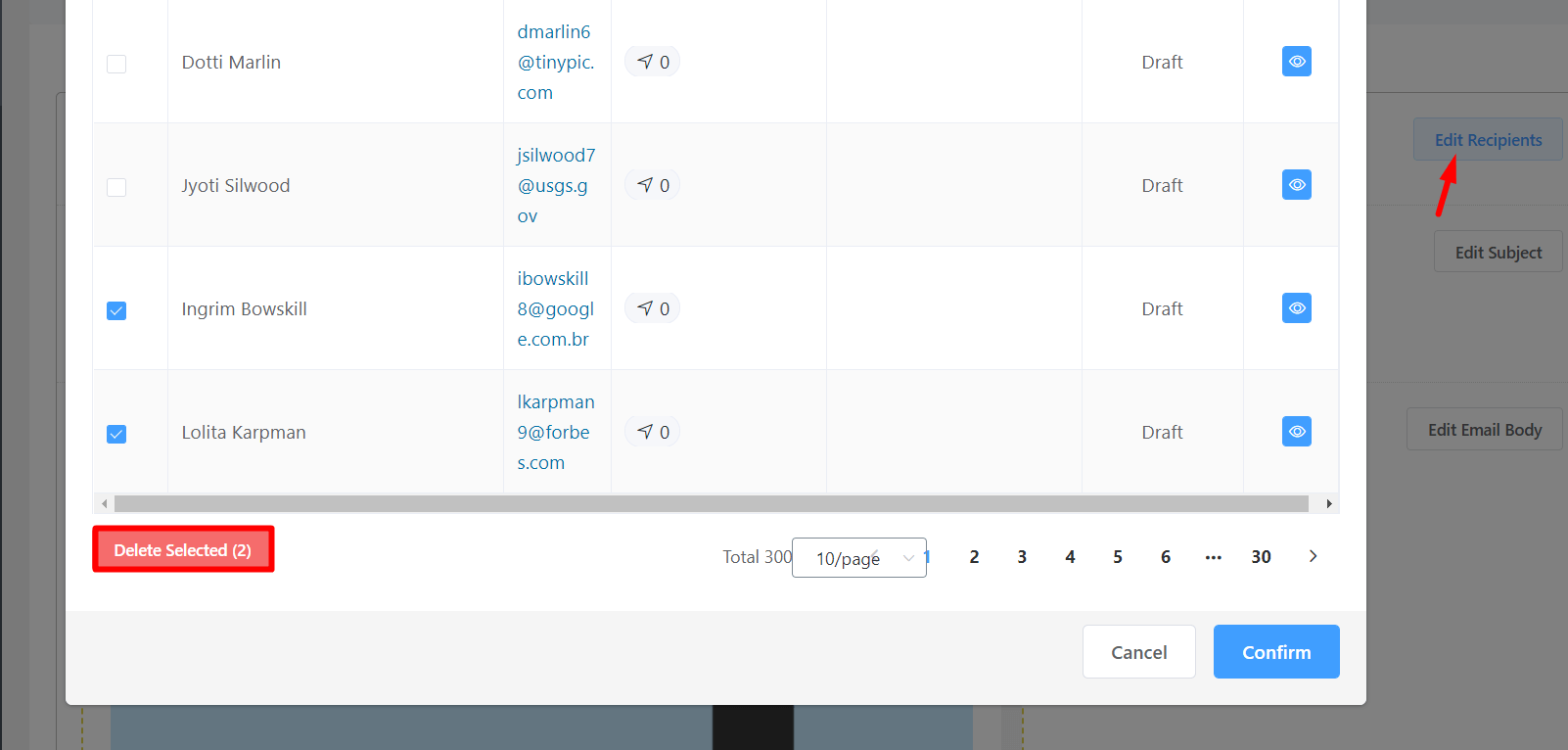 Edit Subject & Email Body
Edit the Email Subject or Email Body if needed. Clicking those will take you to the respective setting step.
Broadcast/Schedule Email Campaign
You can start broadcasting the emails right away or you can schedule to a time for broadcasting.